Shops in Dorchester – A Visitors Guide
Dorchester, the county town of Dorset, is more than its rich history and picturesque landscapes. It's also a bustling hub for retail therapy, blending tradition and modernity seamlessly. Whether you're a visitor wanting to take home a piece of Dorset or a local in search of everyday essentials, shops in Dorchester have you covered.
From weekly markets teeming with local produce to high-street chains and unique, independent boutiques, the town offers a shopping experience that caters to varied tastes and budgets.
Local Markets
Dorchester Market: Held weekly. A blend of food stalls, antiques, and clothing. A one-stop-shop for diverse items.
Farmers' Market: First Saturday of each month. Local produce, handmade crafts, and organic options.
Vintage Market: Quarterly event. Perfect for collectors seeking retro items and memorabilia.
Artisan Market: Occasional Sundays. Handcrafted goods, from jewellery to baked treats.
High-Street Shops in Dorchester
Dorchester Shopping Centre: Houses popular chains like Mountain Warehouse and Goulds. A convenient choice for mainstream fashion and accessories.
South Street: Includes WHSmith for books and Boots for pharmacy needs. High-street essentials in one stretch.
Cornhill: Daily necessities catered. Coffee shops and pharmacies make it a practical stop.
New Look: Fashion-focused. Provides trendy attire and seasonal collections.
Independent Boutiques
Antelope Walk: A collection of niche shops offering specialised items like artisan foods and handcrafted jewellery.
Trinity Street: Known for unique fashion boutiques and specialty bookshops. A must-visit for discerning shoppers.
Copper Street: Art-focused. Galleries and craft shops offer unique artistic finds.
Brewery Square: A modern shopping plaza. Variety of boutiques and dining options.
Bookshops
Waterstones: Extensive selection. From bestsellers to a dedicated children's area.
The Book Shop: Focuses on rare and antique books. Ideal for collectors.
The Works: Not just books. Stationery and novelty gift items available.
Dorchester Curiosity Centre: Offers second-hand books and vintage items. A mix of old and new.
Outdoor and Sports Gear
Mountain Warehouse: Budget-friendly options for camping and hiking. Reliable for basic outdoor needs.
Blacks: More specialised outdoor gear. Prices are higher but the quality matches.
Great Western Camping: Stocks a range of outdoor gear and apparel. Convenient for active lifestyles.
Home and Garden Shops in Dorchester
Goulds: All-encompassing home store. Offers furniture, kitchenware, and garden supplies.
The Potting Shed: The best garden shop in the town centre. Helpful friendly staff.
Robert Dyas: A national chain with a wide selection. Ideal for home improvement projects.
The Range: Budget-friendly options for home decor and garden items. Good for quick updates.
Pets at Home: Affordable pet care.
Specialty Shops in Dorchester
Fudges Cycle Store: Comprehensive bicycle shop. Provides parts, accessories, and repair services.
Wise Owl Toys: Toy heaven. Stocks educational and fun toys, paints, and games.
Pet Store: Wide range of pet supplies. From quality food to toys.
Currys: Latest electronics and gadgets.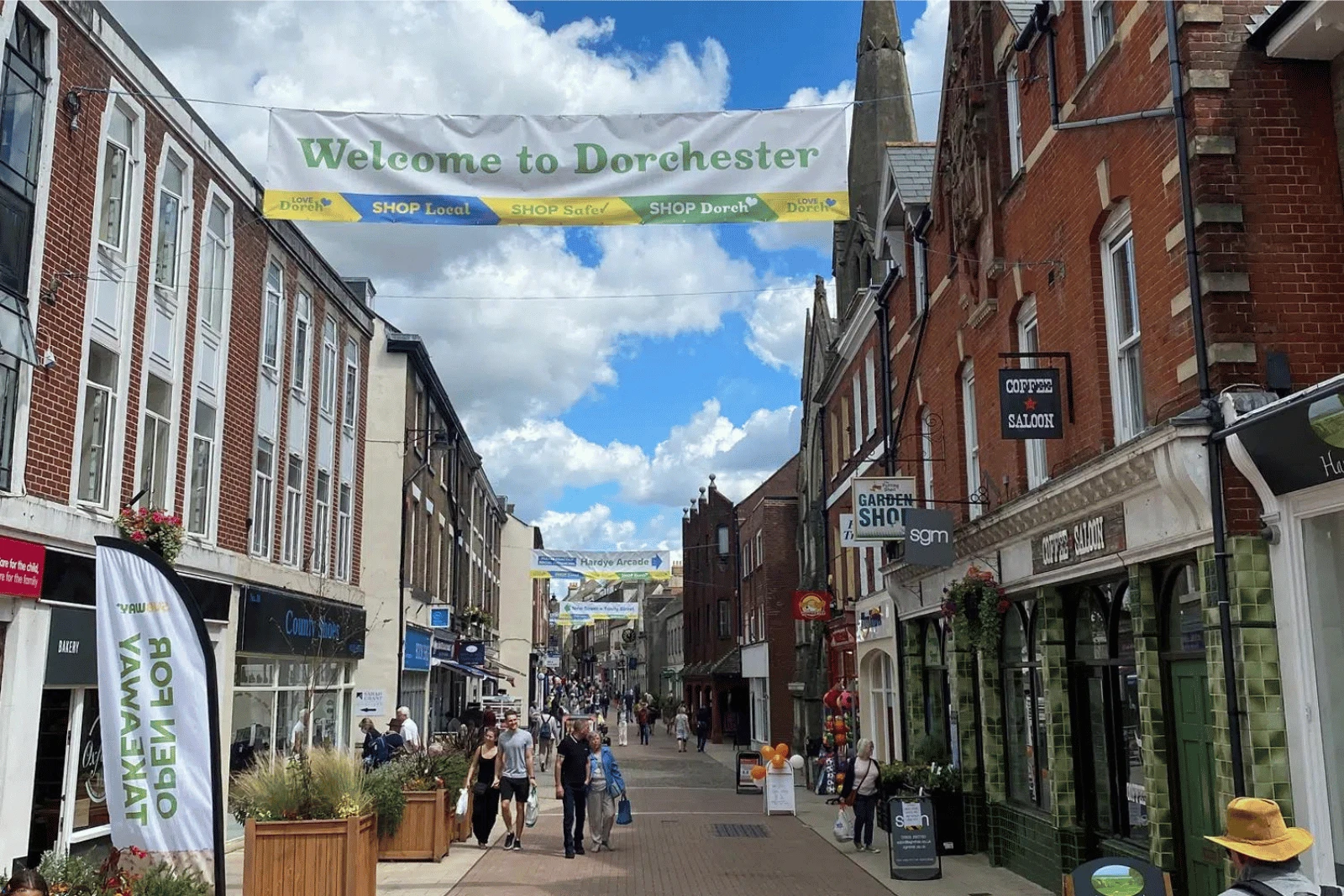 The shopping experience in Dorchester is far from one-dimensional. Whether you're a resident or a visitor, you'll find the retail scene to be comprehensive and diverse. From the charm of local markets and the uniqueness of independent boutiques to the convenience of high-street brands and specialty stores, Dorchester is a retail utopia that caters to a plethora of needs and tastes.
It's not just a place to shop, but a place to experience the fusion of tradition and modernity, all wrapped up in a vibrant atmosphere. This makes Dorchester not just a town to explore but a shopping destination to relish.
For more Dorchester guides – visit our blog page at More Leads Local!