Things to Do in Bournemouth
Bournemouth is a coastal gem on the south coast of England that offers a delightful blend of natural beauty, cultural richness, and exciting events. This guide lists the best things to do in Bournemouth, organised into categories to suit your interests. Whether you're seeking relaxation on beaches, exploring the region's cultural heritage, or indulging in culinary delights, Bournemouth has something to offer every local and traveller alike.
Beaches – Things to Do in Bournemouth
Bournemouth Beach: This iconic stretch of golden sand is not only free to visit but also offers an array of activities. From sunbathing and swimming in the clear waters to building sandcastles, it's a hub of seaside fun. Don't miss the vibrant beach huts that add a splash of colour to the scene.
Durley Chine Beach: If you're looking for a tranquil escape, Durley Chine Beach is the place to be. Nestled in a peaceful chine (a narrow ravine), this beach is perfect for a relaxing beachfront picnic. Enjoy the gentle sounds of the waves and the rustling of leaves from the surrounding pine trees.
Alum Chine Beach: Families with children will appreciate the charm of Alum Chine Beach. It's not only a beautiful spot but also features a fantastic play area for the little ones. While they have fun on the swings and slides, you can bask in the sun or take leisurely walks along the promenade.
Branksome Chine Beach: Just a short stroll from Alum Chine, Branksome Chine Beach is another family-friendly option. With a pirate-themed play area and plenty of open space, it's a great place for kids to run around. The clear waters make it inviting for swimming and paddleboarding.
Southbourne Beach: Known for its Blue Flag status, Southbourne Beach boasts clean waters and a laid-back atmosphere. It's a lovely spot for sunbathing, and you can also explore the nearby Fisherman's Walk Cliff Lift for scenic views.
Canford Cliffs Beach: For a more upscale beach experience, Canford Cliffs is an affluent area with a pristine sandy beach. The promenade is lined with stylish beach huts, and the beach is a popular spot for beach volleyball and windsurfing.
Each of these Bournemouth beaches offers its own unique charm and is worth exploring based on your preferences and interests. Enjoy the sun, sea, and sand!
Outdoor Activities – Things to Do in Bournemouth
Hengistbury Head: This natural wonder is a must-visit for outdoor enthusiasts. Hengistbury Head offers not only hiking and biking opportunities through stunning nature reserves but also panoramic views of Christchurch Harbour and the English Channel. Keep an eye out for diverse wildlife, including migratory birds.
Bournemouth Gardens: Take a break from the bustling city and indulge in leisurely strolls through Bournemouth Gardens. These beautifully landscaped gardens are a serene oasis featuring a variety of colourful flowers and ornamental plants. It's an ideal spot for a relaxing afternoon or a romantic walk.
Watersports: Bournemouth's coastline beckons adventure seekers with a wide range of watersports. You can catch some waves with surfing lessons, try your hand at paddleboarding, or explore the scenic coastline via kayaking. With numerous watersport providers along the coast, it's easy to dive into aquatic fun.
New Forest National Park: Located just a short drive from Bournemouth, the New Forest National Park offers extensive opportunities for outdoor exploration. Hike or cycle through ancient woodlands, heathlands, and grasslands. Keep an eye out for the famous New Forest ponies that roam freely.
Brownsea Island: Hop on a ferry and visit Brownsea Island in Poole Harbour. This nature reserve is a haven for wildlife enthusiasts. Explore its trails, spot red squirrels, and enjoy picnics in the peaceful surroundings. Don't forget to visit the Brownsea Castle.
Bournemouth Pier to Pier Walk: Take a scenic walk along the coastline from Bournemouth Pier to Boscombe Pier. It's a pleasant way to soak up the sea views and get some exercise. You can even stop for an ice cream or fish and chips along the way.
Biking in the Purbeck Hills: For more advanced cyclists, the Purbeck Hills offer challenging trails with rewarding views. You can ride through the rugged terrain and enjoy vistas of the Jurassic Coast.
These outdoor activities in and around Bournemouth cater to a wide range of interests and skill levels. Whether you're a nature lover, an adventure seeker, or simply looking to unwind in beautiful surroundings, there's something for everyone to enjoy.
Entertainment – Things to Do in Bournemouth
Bournemouth Pier: A visit to Bournemouth Pier promises a delightful mix of amusements and breathtaking sea views. Stroll along the wooden planks, stop at the arcade for classic games, and try your luck at the slot machines. Enjoy the fresh sea breeze and panoramic vistas of the coastline. Don't forget to treat yourself to traditional fish and chips from one of the nearby eateries.
Russell-Cotes Art Gallery: Immerse yourself in the world of Victorian-era art and architecture at the Russell-Cotes Art Gallery. Housed in a magnificent cliff-top villa, this gallery boasts an impressive collection of paintings, sculptures, and decorative arts. Explore the opulent interiors, ornate furnishings, and the stunning view from the balcony overlooking the sea.
Pavilion Theatre: Bournemouth's Pavilion Theatre is a hub for live entertainment throughout the year. From musicals and comedy acts to concerts and ballet performances, there's a diverse line up of shows to enjoy. The historic venue itself is a marvel with its grand architecture and rich history.
Oceanarium: Dive into the underwater world at the Oceanarium. This family-friendly attraction allows you to get up close and personal with marine life. Watch graceful sea turtles, mesmerising jellyfish, and playful penguins in their carefully recreated habitats. Educational and entertaining, it's an excellent outing for all ages.
Escape Rooms: Challenge your wits and teamwork skills at one of Bournemouth's escape rooms. Solve puzzles, decipher clues, and work against the clock to escape themed scenarios. It's an exciting and engaging activity for friends and family.
Bournemouth International Centre (BIC): Check the event calendar at BIC for a wide range of entertainment options, from major concerts and comedy gigs to exhibitions and conferences. It's a cultural hub in the heart of the town.
Nightclubs in The Triangle: If you're in the mood for a lively night out, head to The Triangle area in Bournemouth. This bustling nightlife district is home to various bars and nightclubs, making it perfect for dancing the night away and enjoying cocktails with friends.
Cinemas: Catch the latest blockbusters or indie films at Bournemouth's modern cinemas. It's a relaxing way to spend an evening, especially if you're a movie enthusiast.
Whether you're interested in art, live performances, family-friendly attractions, or a night on the town, Bournemouth offers a diverse array of entertainment options to keep you engaged and entertained during your visit.
Dining and Nightlife – Things to Do in Bournemouth
Westbourne: Nestled in the west of Bournemouth, Westbourne is a food lover's paradise. Explore its charming streets lined with a variety of cafes and restaurants offering diverse cuisine. Whether you're craving Italian, Indian, Thai, or traditional British fare, Westbourne has it all. Don't forget to try the delectable pastries and desserts in its quaint bakeries and sweet shops.
The Triangle: For those seeking a vibrant night out, The Triangle district in Bournemouth is the place to be. This area comes alive after dark with a wide selection of lively bars and clubs. Whether you're into dancing to the latest beats, enjoying cocktails with friends, or simply soaking up the energetic atmosphere, you'll find it here.
Fisherman's Wharf: If you have a penchant for seafood, head to Fisherman's Wharf. Situated by the quayside, this restaurant offers a delightful seafood dining experience. Savour fresh catches of the day, from succulent fish and chips to exquisite seafood platters. The waterfront setting adds to the ambiance, making it a perfect spot for a memorable meal.
Old Christchurch Road: This bustling street in the heart of Bournemouth is lined with an array of restaurants and eateries to suit all tastes. You can find everything from international cuisine to traditional British pub fare. It's a convenient spot to dine before a show at the nearby Pavilion Theatre.
Night Markets: Check the local event calendar for night markets in Bournemouth. These pop-up markets often feature food stalls offering a wide range of international street food, handmade crafts, and live entertainment. It's an excellent way to experience the local food scene and pick up unique souvenirs.
Cocktail Bars: Bournemouth boasts a selection of cocktail bars where skilled mixologists craft inventive drinks. Whether you prefer classic cocktails or signature creations, these bars offer a sophisticated atmosphere to enjoy your evening.
Live Music Venues: Enjoy live music performances at various venues across Bournemouth. From intimate jazz clubs to larger concert halls, there's something for music enthusiasts of all genres.
Beachfront Dining: For a romantic evening, consider dining at one of the beachfront restaurants. Enjoy a meal with a backdrop of the sea and the sound of waves crashing on the shore. It's a memorable way to experience Bournemouth's coastal charm.
No matter your culinary preferences or nightlife desires, Bournemouth provides a diverse range of dining and entertainment options to satisfy every palate and ensure you have a fantastic evening out. Check out our Bournemouth restaurants guide and Bournemouth Pubs guide for detailed recommendations on where to dine and drink!
Family-Friendly – Things to Do in Bournemouth
Oceanarium: Make a splash with your kids at the Oceanarium. This engaging attraction allows families to marvel at marine life up close. Watch in awe as your little ones encounter graceful sea turtles, mesmerising jellyfish, and playful penguins in their carefully recreated habitats. The educational and interactive exhibits provide a fun learning experience for children of all ages.
Adventure Wonderland: For a day of thrilling adventures and family fun, head to Adventure Wonderland. This amusement park offers a wide range of rides and attractions suitable for children of various ages. From roller coasters and water rides to a giant maze and indoor play areas, there's plenty to keep everyone entertained.
Bournemouth Aviation Museum: Take a journey through aviation history at the Bournemouth Aviation Museum. This fascinating attraction is a treat for aviation enthusiasts and curious young minds alike. Explore a collection of vintage aircraft, learn about the evolution of flight, and even climb aboard some of the aircraft for a hands-on experience.
Monkey World – Ape Rescue Centre: Located a short drive from Bournemouth, Monkey World is a fantastic place for a family day out. It's home to a variety of rescued primates from around the world. Witness these intelligent creatures up close and learn about conservation efforts. The park's informative presentations and play areas make it an educational and enjoyable experience for kids. Meeting Gordon the Orangutan, a Dorset celebrity, is a highlight for all ages.
Splashdown Waterpark: Beat the heat and create lasting memories with your family at Splashdown Waterpark. Located in nearby Poole, this waterpark features a thrilling array of water slides, flumes, and pools. Whether you're looking for adrenaline-pumping slides or a relaxing lazy river, there's something for every water lover.
Miniature Golf: Enjoy a friendly game of miniature golf with your kids at one of Bournemouth's miniature golf courses. It's a fun and family-friendly activity that combines competition with outdoor enjoyment.
Pirate Adventure Mini Golf: Set sail on a pirate-themed miniature golf adventure. This course is not only challenging but also provides a unique and entertaining setting for a family game.
Beachfront Fun: Don't forget that Bournemouth's sandy beaches themselves are a playground for families. Build sandcastles, paddle in the shallow waters, or simply soak up the sun while your kids explore the shoreline. Many areas also have play equipment and beachfront cafes for added convenience.
These family-friendly attractions and activities in and around Bournemouth offer a wide range of experiences, ensuring that both kids and adults have a memorable and enjoyable time together during your visit.
Shopping – Things to Do in Bournemouth
Whether you're on the hunt for trendy fashion, vintage treasures, holiday gifts, or unique art pieces, Bournemouth offers a diverse shopping scene that caters to a wide range of tastes and interests. Happy shopping!
Culture and History – Things to Do in Bournemouth
Bournemouth and its surrounding areas offer a rich tapestry of culture and history waiting to be explored. Whether you're interested in geological wonders, architectural marvels, or local heritage, there's a wealth of knowledge and beauty to discover.
Nature and Parks – Thing to Do in Bournemouth
Lower Gardens: Lower Gardens in Bournemouth is a tranquil oasis where you can unwind amid colourful flower displays and lush greenery. Take a leisurely stroll along the meandering pathways, enjoy picnics by the Bourne Stream, and relax on well-kept lawns. The gardens often host outdoor events and concerts during the summer, adding to the vibrant atmosphere.
Poole Harbour: Embark on a boat trip from Poole Harbour for an unforgettable birdwatching and nature-spotting experience. This natural harbour is teeming with wildlife and is a designated Ramsar site. Keep your eyes peeled for a variety of bird species, including waders and seabirds. Some tours also offer the chance to spot seals and dolphins in the waters.
Moors Valley Country Park: Nature enthusiasts and hikers will find Moors Valley Country Park to be a haven of natural beauty. Explore a network of scenic trails that wind through woodlands, heathlands, and alongside picturesque lakes. The park offers various routes suitable for all levels of hikers. Pack a picnic and enjoy a meal in the great outdoors, or let the kids burn off energy in the adventure play areas.
Hengistbury Head Nature Reserve: Located at the eastern end of Bournemouth, Hengistbury Head is a stunning nature reserve that offers a wealth of outdoor activities. Aside from hiking and biking, you can explore the reserve's diverse habitats, including heathland, grasslands, and wetlands. Birdwatchers will delight in the opportunity to spot migratory and resident species. The panoramic views from the headland are also worth the visit.
Avon Heath Country Park: A short drive from Bournemouth, Avon Heath Country Park provides a serene escape into nature. Wander through heathlands and woodlands, keeping an eye out for wildlife such as deer and reptiles. The park offers marked trails for walking and cycling, as well as dedicated areas for picnics and barbecues.
New Forest National Park: While previously mentioned, the New Forest National Park is a vast natural playground offering countless opportunities for exploration. Aside from hiking and picnicking, you can also enjoy horse riding, cycling, and even spot the famous New Forest ponies that roam freely.
Compton Acres: For those who appreciate beautifully landscaped gardens, Compton Acres in Poole is a horticultural wonder. Explore ten distinct gardens that showcase various styles and plant collections. From Japanese gardens to Italian terraces, each area offers a unique and peaceful setting for contemplation.
Alum Chine Tropical Gardens: Located close to the beach, Alum Chine Tropical Gardens is a delightful escape into lush greenery. Wander through subtropical flora, cross over charming bridges, and listen to the soothing sounds of the Bourne Stream as it meanders through the gardens.
Bournemouth and its surrounding areas boast a remarkable diversity of natural landscapes and parks, providing ample opportunities to connect with nature, go hiking, enjoy picnics, and observe wildlife in their natural habitats. Whether you prefer a leisurely garden stroll or an adventurous hike, there's a perfect spot for you to explore.
Events – Things to Do in Bournemouth
Bournemouth hosts a diverse range of events throughout the year, catering to various interests and passions. Whether you're captivated by aviation, arts, food, music, or culture, there's an event in Bournemouth that will leave you with memorable experiences and lasting impressions.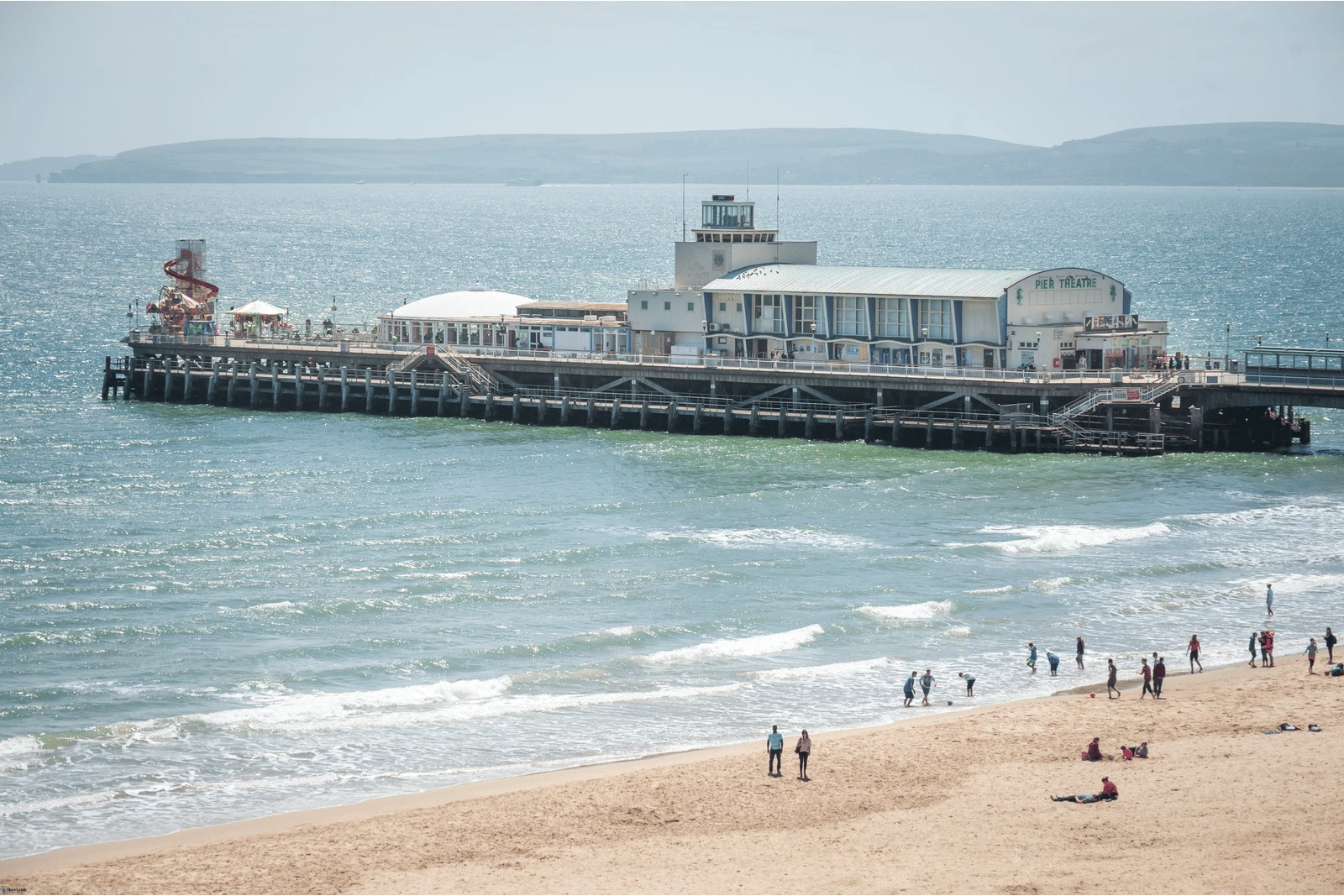 From its beautiful beaches to its rich cultural heritage, from thrilling events to serene natural parks, Bournemouth invites you to create lasting memories in a setting that effortlessly balances relaxation and adventure.
Whether you're here for a family vacation, a romantic getaway, or a solo adventure, Bournemouth's charm is sure to leave you with unforgettable experiences. So, pack your bags and immerse yourself in the vibrant tapestry of this captivating coastal destination.
Bournemouth awaits with open arms and a world of discovery. For more recommendations on things to do in Bournemouth and Dorset, check out other guides from More Leads Local!